Product Catalog
Single cylinder dryer
Product Categories:
Dust removal and desulfurization equipment / other

product description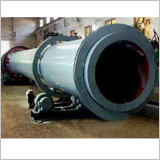 Product introduction:
working principle:
The main body of the horizontal dryer is a rotating cylinder with a certain slope, and it is also equipped with a combustion chamber, exhaust, dust collection, and feeding devices. It uses high-temperature flue gas as the drying medium and is sucked into the dryer barrel by the exhaust device. The wet material enters the dryer barrel through the feeding device and comes into contact with the high temperature flue gas. The high-temperature flue gas transfers heat to wet materials by convection, radiation, and conduction. After the materials are heated, the water evaporates into the drying medium. This is a mass transfer process. During the heat and mass transfer process, due to the non-stop rotary material movement of the cylinder and the flow from the high end to the low end, the gas is driven by the exhaust air from the high pressure to the low pressure during the movement In the middle, the materials are dried and discharged out of the dryer, and the exhaust gas is discharged to the atmosphere after being collected.
Technical characteristics:
The new combined lifting plate and central secondary lifting device are adopted, so that there is no wind tunnel phenomenon and the heat exchange efficiency is high.
The combination of multiple circumferential lifting materials can effectively control the drying time and the drying effect is good.
Matching high-temperature flue gas boiling furnace, fast burning, sufficient heating, high thermal efficiency, coal consumption is less than 15kg standard coal / t dry material.
It integrates heating, drying and dust collection; it realizes mechanization and automation of operations and meets environmental protection requirements.
company name:

Yancheng Qunsheng Environmental Protection Equipment Co., Ltd.
Contact:
Zhang Linchun Xiangong Zhang Wei
contact address:
Zhangzhuang Industrial Park, Yandu District, Yancheng