Product Catalog
Fully automatic double brush scrubber SA2-A705 / 95
Product Categories:
Sanitation cleaning equipment / ground scrubbers \ ground scrubbers

product description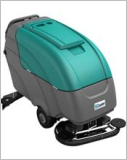 Fully automatic double brush scrubber model: SA2-A705 / 95
Features of Fully Automatic Double Brush Scrubber:
Double brush plate design, larger cleaning width; install drive system, light and labor-saving;

The brush plate has a supercharging function, which can adjust the brush plate pressure according to the ground conditions to ensure the best cleaning effect;

The control panel can adjust the size of the water out of the brush tray, and has a fault prompt function;

Humanized design, the height of the armrest can be adjusted according to the height of the operator;

Built-in intelligent pulse charger, convenient operation, automatic protection after full charge, and can prolong battery life;

The solenoid valve controls the water flow to ensure that the brush stops.

Imported suction motor, more thorough water absorption, low noise and stable performance;

V-shaped design of suction squeegee.

It does not require any tools to change the adhesive strip, and the adhesive strip can be used on multiple sides, which greatly reduces the cost of use.
Fully automatic double brush scrubber is applicable to large-scale cleaning of factory workshops, warehouses, supermarkets, exhibition halls, stations, hotels, hospitals, airports and other venues.
Fully automatic double brush scrubber SA2-A705 / 95 configuration: 4 * 6V210AH maintenance-free battery (standard), needle plate (optional), floor brush (optional).
company name:

Shanghai Suchuangyuan Environmental Protection Technology Co., Ltd.
contact number:
021-59975370
Contact Fax:
021-59975369
contact address:
No.146 Seed Farm, Huating Village, Jiading District, Shanghai
Postal code:
wyj@sccet.com