Product Catalog
Solenoid pulse valve
Product Categories:
Dust removal and desulfurization equipment / solenoid pulse valve

product description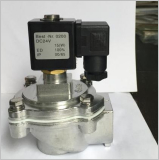 The company's scientific research team is committed to the technical research and equipment manufacturing of filtering and dust removal of dusty and contaminated gases, mixing and collision of gas and liquid media, and equipment manufacturing. It has never stopped moving forward and continuously develops new technologies and processes. ,New product. Has a group of independent intellectual property rights such as "media atomization desulfurization and dust removal device". Based on technical advantages, it mainly serves the steel, metallurgy, power, building materials, heating and other industries. It is a modern production enterprise integrating dust removal, flue gas desulfurization, denitration, and environmental engineering design, manufacturing, and installation. The credit rating is "AAA" level. The company has passed ISO9001 quality system certification and ISO14000 environmental system certification.
,产品销往全国20多个省市。 The company has a number of advanced processing equipment and processes including: 20,000 KN intelligent hydraulic platform, welding robots, CNC stamping centers, CNC machining centers, etc. With a sound enterprise management model, advanced processing technologies and equipment, and a high-quality workforce , Continuously improve the quality of products, and manufacture reliable and reliable environmental protection equipment products that customers can trust. The main products are various types of bag dust collectors, mechanical dust collectors, wet dust collectors, LCT fog bubble flue gas desulfurization and dust removal devices, and SCR / SNCR smoke. Gas denitration projects, as well as screw conveyors, zipper machines, controllers, bag frames, unloaders, venturi tubes, etc. , which are matched with the above equipment , are sold to more than 20 provinces and cities nationwide. Awarded as "China's Leading Enterprise in Environmental Protection Industry" by the Environmental Protection Industry Association. The company's main products, high-voltage electrostatic precipitators and bag-type precipitators, have obtained the national environmental protection product certification.
The boiler flue gas desulfurization and denitrification projects undertaken by the company, large bag dust collector projects in the building materials and metallurgical industries, and electric bag composite dust collector projects in the power industry have all passed inspection and acceptance by the local environmental protection department, and are regarded as well-known brands in the environmental protection industry.
Specific product specifications are welcome to call our company for consultation!
Phone: 15705118222 (Manager Yang)
company name:

Yancheng Jerda Environmental Protection Equipment Co., Ltd.
contact number:
0515-88528278
Contact Fax:
0515-88515928
contact address:
Yancheng Xinxing Town Xinxing Industrial Concentration Zone